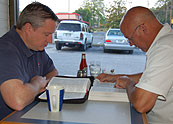 Men Abiding in Christ Ministries exists to:

Partner with churches to establish a ministry that targets every man in the congregation to be a disciple of Jesus Christ.
Identify and disciple church leaders and help them to develop a vision and purpose for multiplying themselves by discipling the men in the congregation through accountable and authentic relationships. More >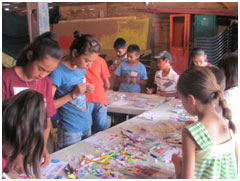 "Faith Group Initiates Construction of $500K Mexican Medical Facility"
The Marietta Daily Journal profiled the continuous mission work of Men Abiding in Christ Ministries and local church congregations in Renacimiento, Mexico (a community on the outskirts of the suburb of Garcia). Read the article in the MDJ about these "Gringo Mission Trips."
Small Group Ministries
See some pictures from an overnight retreat that my Tuesday night small group enjoyed recently. This group of 11 men started meeting back in July. This is a unique group in that most all of the men have known each other since the 2nd grade. It has really been a privilege to lead and be a part of this group.